DUE TO POPULAR DEMAND WE PRESENT OUR
BOURBON SLUSH MIX
The fast, time saving, easy way to make bourbon slush!

Customers have asked us for years for a Bourbon Slush Mix so we made it happen! Our Bourbon Slush Mix is a throwback to the old fashioned traditional bourbon slush except we have added a few new ingredients and reduced the prep time to make it faster, more convenient to make and so delicious.
Here Are A Few Advantages Of Our Bourbon Slush Mix:
- No need to cook sugar and water to make a simple syrup.
- No need to brew tea from scratch.
- No need to measure out sugar or any other dry ingredients.
- You can use any brand of bourbon or whiskey with our Bourbon Slush Mix.

- We've added a few new ingredients to the traditional recipe to make it even more flavorful. Still very similar to the traditional version, but we think it's just a little bit better.
- No need to let it thaw when you take it out of the freezer. It's ready to serve immediately. Just spoon it into your glass and enjoy.
- After freezing the entire batch you can add extra bourbon or whiskey to an individual serving. Do not add more to the entire batch before freezing. (It won't freeze properly with too much bourbon or whiskey in it. Just add it to a glass full of the previously frozen batch and stir.)
WANT TO ADD A FLAVOR TO YOUR BOURBON SLUSH?
Raspberry Peach Strawberry
Many, Many More!
You can add flavored syrups to our Bourbon Slush mix to enhance the overall flavor of the slush. How about a Peach Bourbon Slush or a Raspberry Bourbon Slush? Unlimited flavored syrups available. These two companies below sell literally hundreds of different flavors to choose from.
MONIN WEBSITE: moninsyrups
TORANI WEBSITE: toranisyrups

IMPORTANT NOTE:
YOU DON'T HAVE TO HAVE A LIQUOR LICENSE TO SUCCESSFULLY SAMPLE AND SELL THIS PRODUCT.
When my wife and I used to sell our Vino Slush at craft shows, farmer's markets, festivals, etc. we didn't have a wine license so we sampled the product with non-alcoholic wine (which tastes exactly like regular wine). We sold a ton of product at every show!

So, you can sell our Bourbon Slush mix anywhere using non-alcoholic bourbon or whiskey for sampling. There are many companies that sell the non-alcoholic version. Just Google "non-alcoholic bourbon and whiskey" to find a bunch of companies that sell it. Use it for sampling our Bourbon Slush mix. No alcohol - no problems!
IF YOU ARE A WINERY: Bear in mind, many wine drinkers also love bourbon or whiskey based cocktails. Why not add an additional product that caters to these customers also? Our Bourbon Slush mix will add to your sales because it fills a void at most wineries. Don't miss out on extra, easy sales! Fill that void easily with our Bourbon Slush mix. You will have little or no competition for this product. The recipe for our Bourbon Slush mix is exclusive to Jim Miller Gourmet.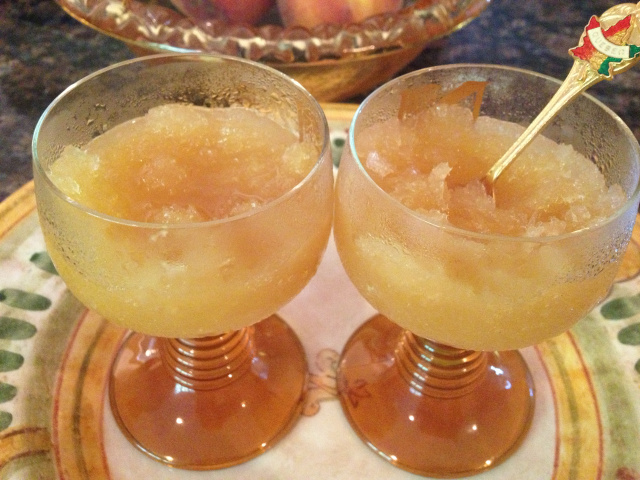 INSTRUCTIONS FOR MAKING OUR BOURBON SLUSH
(Our back label)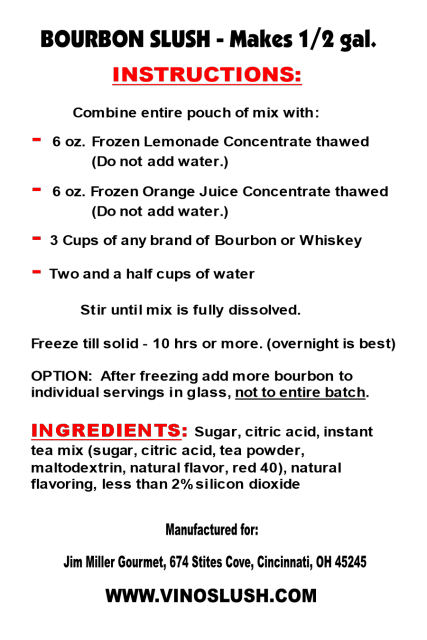 (Most lemonade and orange juice concentrates are in frozen cans containing 12 ounces. Since this recipe calls for 6 ounces of each, you may consider making a double batch to use up the remaining concentrate. It will last for months in your freezer.)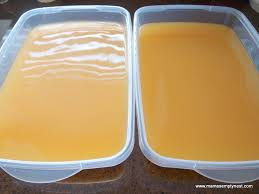 OPTION: You may add any lemon lime drink to an individual glass full of previously frozen batch and stir. Do not add lemon lime drink to the entire batch before freezing.
Many of our winery customers sell beer and other non-wine products. The more selection of products you have, the more sales you make. Many wine drinkers also like bourbon and whiskey cocktails. I know that for a fact because I sell both. So, with a shelf life of over a year, buying one case of the Bourbon Slush mix to give it a try is a smart move.
ENJOY!
VINOSLUSH.COM 513-752-2646