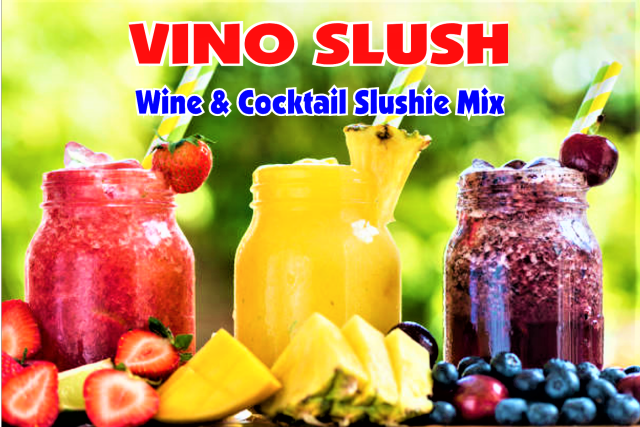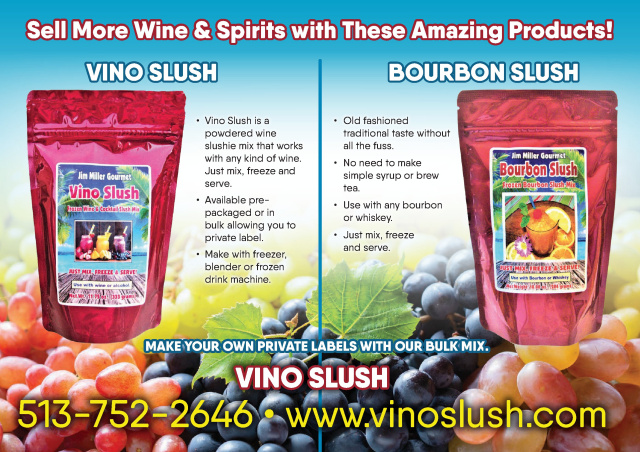 VINO SLUSH!
Wine & Cocktail Slushie Mix

Vino Slush, a product of Jim Miller Gourmet since 2010, is a frozen wine and cocktail slush mix that you use with any kind of wine or liquor. Just mix it, freeze it and serve. Or you can use a blender for faster results.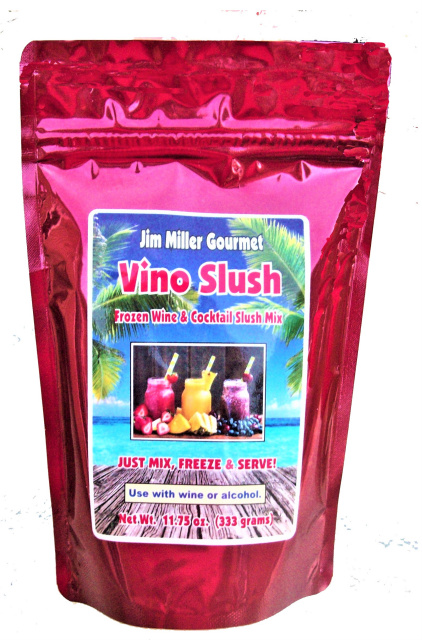 Vino Slush is known by many names - wine slush, wine slushy, wine slushies, frozen wine, frozen wine slush, frozen wine drink, wine coolers and many others, but we just call it Vino Slush. You can make our delicious frozen wine slush drink with any kind of wine. Reds, whites, dry or sweet, even champagne.

Our Vino Slush doesn't have any flavor itself. It's a neutral base that takes on the profile of whatever wine you use. In other words, it's your wine that provides the flavor. For example, if you use a Merlot wine it's going to taste like a Merlot slushie!
CREATE YOUR OWN
DIFFERENT FLAVORS!
Sangria Peach Bellini Strawberry Daiquiri
Margarita Watermelon Many, Many More!
There are many reasons why we don't make different flavors of our wine slush mix. And they are very important reasons why. For a full, detailed explanation of why we feel our neutral base Vino Slush used with flavored syrups is the better way to go than buying pre-flavored mixes, go to our Q & A page. It may just change your whole way of thinking about flavored mixes. Our reasons may never have occurred to you before. However...........
You can easily change our Vino Slush mix, which is a neutral, non-flavored mix (it tastes like whatever wine you use with it), into an infinite variety of different flavors by simply adding flavored syrups.
There are two companies that we recommend that sell literally hundreds of different flavored syrups made especially to be added to drinks. This way you can tailor each flavor of your slushie to suit your taste exactly.
If you want the flavor stronger, just add a little more syrup. If it's too strong for your taste, just add a little less. If you want to combine two or more syrups together - you can! With a few steps of trial and error you will have the perfect flavored slushie for the wine you wish to use.
This is not possible when you buy a slush mix that is already flavored.
A pre-flavored mix is flavored according to someone else's taste - not yours.
And if you are a winery - oh boy! These syrups will open the door to an infinite number of combinations of flavors that pair perfectly with all of your wines. And the ability to customize your flavors to match your wines perfectly is unlimited. You can be selling uniquely flavored slushies with a taste that your customers can only get at your winery.
Here are the two companies we recommend for flavored syrups (they can also be added to our Bourbon Slush mix). Just Google both of them to select the flavors you want.
Monin Syrups
and
Torani Syrups
So the bottom line is if you want your slushie to taste like the wine you are using, just use the Vino Slush mix and the wine.

If you want a flavored slushie, use the mix, the wine and a syrup.
******
Recently posted on FaceBook by Vintner's Celler in Bismark, N.D. "If you stop into the store, ask for a sample of the Vino Slush. This is a great new product that we have. Makes a wonderful drink. Supplies have been flying off the shelf!"

You can even use our Vino Slush for non-alcoholic slush drinks. Try it with non-alcoholic wine, sparkling juices, ginger ale, grape juice, apple juice, cranberry juice, or pomegranite juice. Absolutely delicious and so refreshing on a hot day.

"It has become a hit at our winery. I keep some made up and give out free samples and the stuff just flies off the shelves.....I'm thinking this summer it will go even faster."
LaDonna
Ingredients:

Sugar, Tea, Citric Acid,
Natural Flavoring, less than 2% silicon dioxide (anti-caking agent)
"Hi Jim!
WOW! We introduced our slushees today and our customers went nuts! Sold almost 200 slushees today from 11AM to 5PM. We think this is going to be a great addition to our winery menu!
Could I put in an order for 16 bulk cases? Would that get to us by the end of this week? We plan on doing this again next Sunday. Let me know if you have questions or need anything further from us.
Cheers!"
Angie
NEWS FLASH! The first two events at which we sold our Vino Slush wine slush mix, we sold out completely. We tracked our sampling results and it turned out that 70% of the people who tried our samples (using non-alcoholic wine for the samples due to liquor laws) bought the product. 70%! That's unheard of.

Even people who don't like wine at all bought it. People just love wine slushies. It is so unique and so refreshing that folks just gotta have it once they taste it. We can't make this product fast enough. It's going through the roof! (Makes a great gift too.)
"Hi Jim,

What can I say? Your product is awesome! I mixed and froze my alcoholic slushy and I was in heaven! Thank you for the fast delivery last time, I'm giving the gift bag to my sister she had bought something similar to your product at an arts and craft festival. So yes I am a returning customer and plan on being a long lasting one at that. My birthday is next week, Friday and I want to make sure I have enough slush for everyone!
Thanks again."

Desiree
****
YOU CAN BUY OUR VINO SLUSH
MIX IN THREE DIFFERENT VERSIONS:
1. PRE-FILLED STAND UP POUCHES WITH OUR LABELS. Comes in a case of 30 pouches.

2. PRE-FILLED STAND UP POUCHES WITH NO
LABELS. No need for you to fill each pouch.
All you have to do is apply your own labels on
the front and the back. We will provide you
with all of the information you need to have
on your labels. Also comes in a case of 30
pouches. (This version is a special order with
a minimum order of 10 cases and a lead time
of two weeks.)

3. OUR BULK MIX OF 30 LBS. USE IN YOUR
FROZEN DRINK MACHINE AND FOR
SAMPLING AND FOR CREATING SLUSHIES
TO GO. See all details below.

BULK WINE SLUSH MIX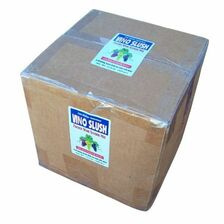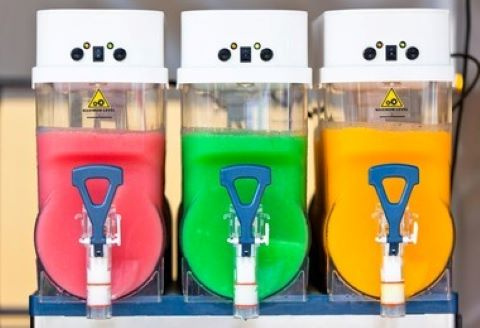 We also sell our wine slushie mix in 30 lbs. cases of Bulk. This is perfect for weddings, parties, and any special event.
Wineries order Bulk so they can use it in their frozen drink machines to sell wine slushies, and for sampling. (You can also use a blender or freezer.) This is much less expensive than using our pre-packaged pouches in your machine.

PRIVATE LABEL WINE SLUSH MIX! We don't do private labeling, but we make it easy to do it yourself. We can sell you our empty pouches, the same ones we use for our pre-packaged pouches - just like the red pouches you see on this page. Then you can use the Bulk to measure out 12 ounces (a cup and a half) into a pouch and apply your own labels for a gourmet, private label wine slushie mix. Filling the pouch with mix takes about ten seconds and you earn about an extra .70 cents profit per pouch.
****
COCKTAILS
VINO SLUSH MAKES WONDERFUL
FROZEN COCKTAILS USING LIQUOR ALSO!
Make many of your favorite cocktails using our Vino Slush such as Tropical Rum Punch, Bourbon Slush, Strawberry Margarita, Peach Bellini, Lemon Vodka, Vodka Cranberry, Screwdriver, Cosmo and more. To see these recipes, CLICK HERE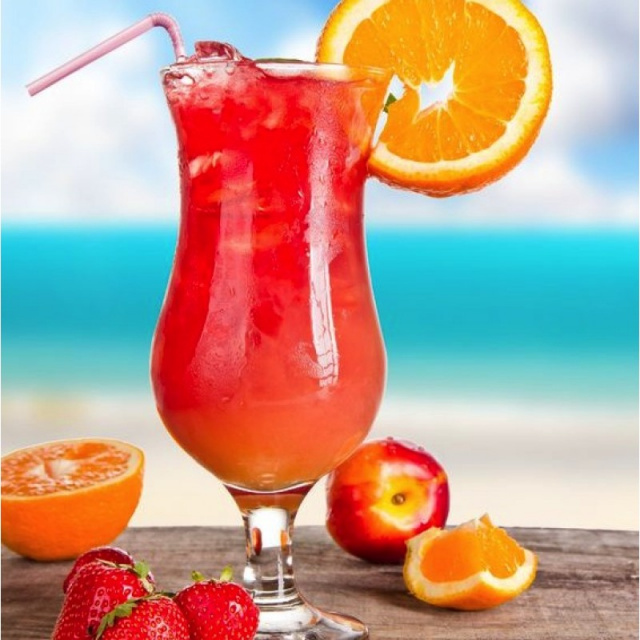 ****
OUR NEWEST PRODUCT!
An American tradition that you will love.
The original American slushie!
IMPORTANT NOTE:

YOU DON'T HAVE TO HAVE A LIQUOR LICENSE TO SUCCESSFULLY SAMPLE AND SELL THIS PRODUCT.
When my wife and I used to sell our Vino Slush at craft shows, farmer's markets, festivals, etc. we didn't have a wine license so we sampled the product with non-alcoholic wine (which tastes exactly like regular wine). We sold a ton of product at every show!

So, you can sell our Bourbon Slush mix anywhere using non-alcoholic bourbon or whiskey for sampling. There are many companies that sell the non-alcoholic version. Just Google "non-alcoholic bourbon and whiskey" to find a bunch of companies that sell it. Use it for sampling our Bourbon Slush mix. No alcohol - no problems!
CHECK OUT OUR BOURBON SLUSH MIX

CLICK HERE
****

WINE MULLING SPICES

AND IT'S SUGAR FREE!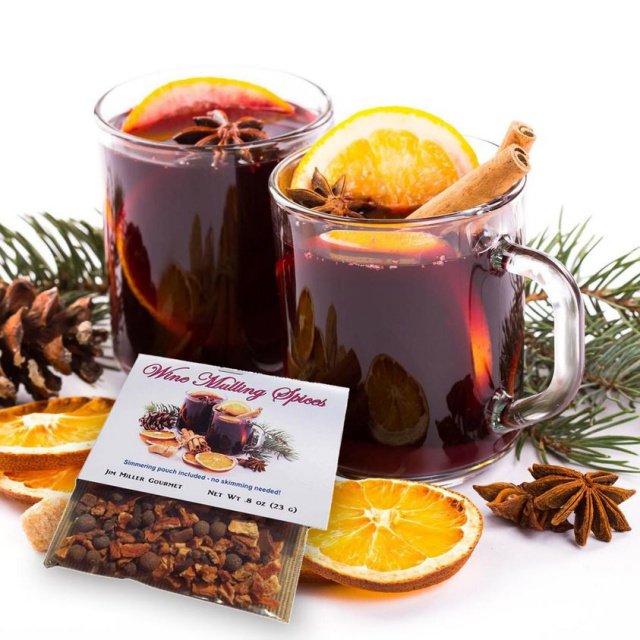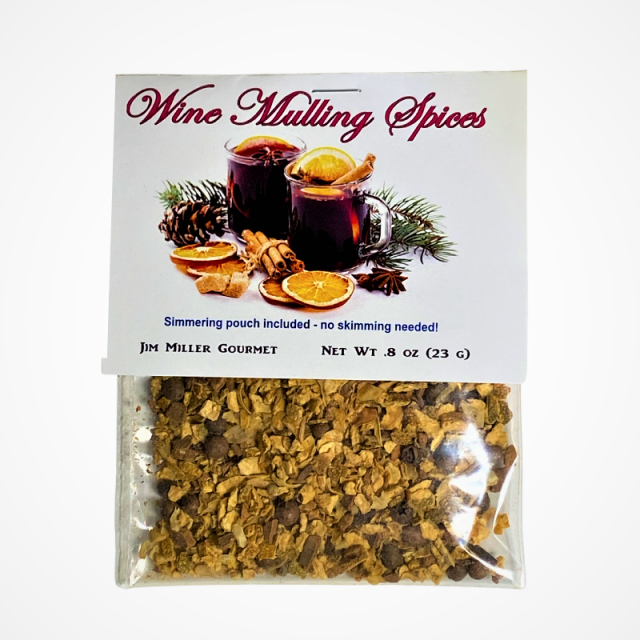 Enjoy the fragrance of aromatic spices and citrus. A delicious drink with wine, cider, tea or juice. Add the spices into a disposable tea bag that's in the package, close the drawstrings of the tea bag and simmer in your favorite drink. Oh, sooo delicious! AND IT'S SUGAR FREE!
TO LEARN MORE ABOUT OUR MULLING SPICES
CLICK HERE
****

Looking for a great business opportunity with hardly any competition?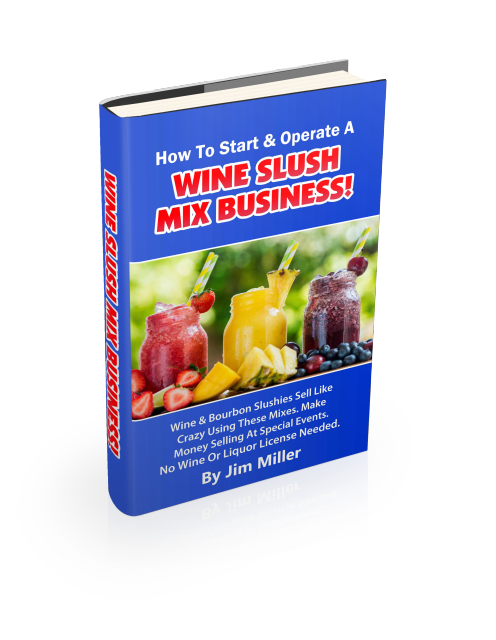 Wine slushies are here to stay!
Our Vino Slush is available for you to sell at special events such as festivals, farmer's markets, craft shows, home parties, and more. Free samples do all the selling for you.

Click on
in our index for more info.


Own a Winery, a Store or Online Business? Want to buy from us at wholesale prices? Give me a call at
513-752-2646 during afternoons. Not available during mornings.


If you would like to stay abreast of Vino Slush, become a fan of our Facebook page. This will automatically keep you up to date on all of our seasonal promotions, new products, new flavors, special sales and more.
If you are not a member of Facebook yet, it only takes a few minutes to sign up. Click on our Facebook page link below.

Vino Slush Facebook Page
VINO SLUSH.COM 513-752-2646