Bulk Vino Slush Mix!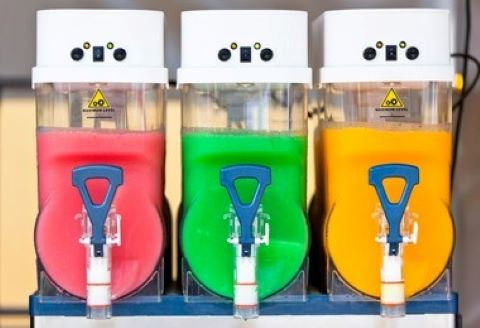 We sell our Vino Slush wine slushie mix in Bulk - a 30 lb. case. One case makes 40 twelve ounce batches of wine slush. This affords you huge savings.
Our bulk product works well for several scenarios:
WHOLESALE

Many of our dealers and wholesale customers buy in bulk in order to save lots of money. It's simple to re-package the mix into 12 ounce batches and put it into our special, stand up pouches that we sell separately.
If you buy 10 or more cases at a time, your price drops dramatically. There are also additional price breaks at 48 and 96 cases. Then your cost per batch is ridiculously low. At this price you can start wholesaling the product to local wineries, stores, gift shops, etc. in your own city.
Packaging it yourself also allows you to use your own private label instead of ours. This works especially well for wineries and retail stores who enjoy having a gourmet product sold as their own private label.

Buying in bulk works great for wineries, bars, restaurants and resorts because you don't have to pay for expensive packaging. Just measure it out of the carton, mix it with the wine and water, pour it into the machine. Saves you a lot of money.
RETAIL
a

If you are having party, wedding, or any large get together, buying in bulk is the only way to go. Any amount of mix left over will last up to a year properly re-sealed to be air tight.
One case of Bulk (retail price) costs $149.00. That means one batch (pouch) of 12 ounces of mix costs you $3.73 per batch instead of $8.95 for a pre-packaged pouch. Talk about saving money! (Wholesale price is much less.)
Your friends, family or office workers may want to all pitch in and buy one case or more. Just weigh out 12 ounces of mix per batch, put it in a plastic, zip lock bag and you will end up with 40 bags per case. Then just divide the mix among yourselves.
For huge savings and flexible labeling, buy Vino Slush in bulk!