START YOUR OWN
WINE SLUSHIE MIX
BUSINESS!
VINO SLUSH!

Frozen Wine Slushie Mix
Monster Money Maker!

DEALERS AND DISTRIBUTORS WANTED!

IT'S OVER
150 PAGES!
It's everything you need to know
about starting and operating a
Wine & Bourbon Slush Mix Business!!

You can get this book for FREE!
See complete details at
the bottom of this page.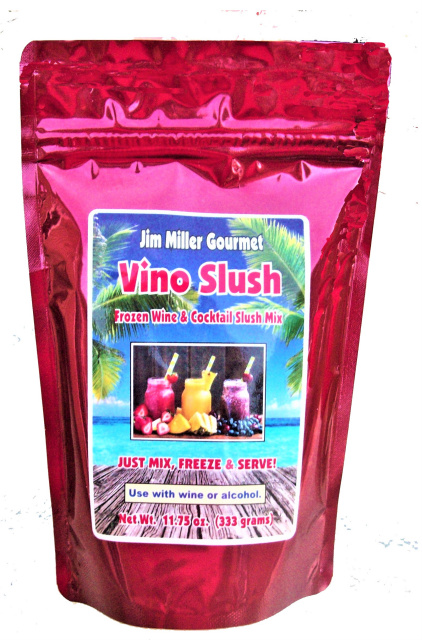 WOULD YOU LIKE TO
START YOUR OWN
WINE SLUSHIE MIX BUSINESS?
Hi, I'm Jim Miller - founder and owner of Vino Slush wine slushie mix.

Over the years I have gotten so many inquiries about how people can become dealers who sell my Vino Slush and Bourbon Slush mixes that I wrote a book about it. They buy the mixes from me at wholesale prices and sell it at retail prices at all kinds of special events.
This book includes everything I have learned about selling these mixes at shows (special events) since 2010. Everything you need to know about starting and operating a wine slushie mix business.
If you want to start your own business selling one of the most popular products on the market today, this is the book for you. If you would like to become a dealer for us you can get this book for FREE under one condition that is explained at the bottom of this page.
Are you aware of how popular wine slushies are throughout the country? Almost every winery these days does a landslide business selling wine slushies, To Go Slushies and wine slushie mixes for customers to take home and make slushies with their favorite wine.
Do you know that you can make hundreds or even thousands of dollars in one weekend by selling our Vino Slush wine slush mix and our Bourbon Slush mix? It's true and it's easy. I did it many times in the early days when I was doing shows myself. All you have to do is offer customers a free sample and it sells itself.
AND YOU DON'T NEED A WINE OR LIQUOR LICENSE!
There is no alcohol in our powdered mix. The customer
adds the wine when they get home.
You will offer samples using non-alcoholic wine or bourbon
which tastes exactly like the real thing!
Vino Slush is a wonderful wine slush drink mix that you mix with any kind of wine and water. Just mix it, freeze it and stir it up into a delicious frozen treat. Or you can use a blender to save time.
This wine slush craze is sweeping the country. It's the new way to drink wine. So refreshing, so chic and sophisticated, yet so much fun and tastes so darn good.
Your customers will be raving about this product. And repeat business – wow! It's tremendous. You will find that even many people who don't like wine will love it when it's made into a wine slushie with our Vino Slush.
You can start your own business selling Vino Slush wine slush mix for as little as $118.50 for one case, plus shipping. It's easy to also add our Bread Dipping mixes in addition to our Vino Slush and Bourbon Slush mixes.
You can sell it at a variety of special events and rarely ever have much competition. The product sells itself. No need to have a liquor license either. The book will tell you how.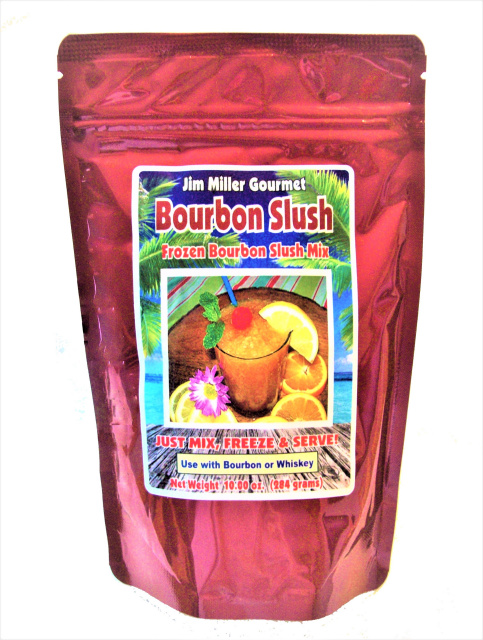 You can also sell our
Bourbon Slush Mix at special events.
WHERE TO SELL OUR VINO SLUSH AND BOURBON SLUSH MIXES

You are able to sell Vino Slush at so many different kinds of events. Any event that draws a lot of people is fine. There are wine festivals everywhere. That's an obvious event to get into. However, many other events work beautifully also.

Wine Festivals
Antique shows
Car shows
Boat shows
Home Improvement shows
Flea Markets
Craft Shows
Festivals
Farmer's Markets
Parades
Trade Shows
Art Festivals
Health Expos
New Age Shows
Concerts
Ball Parks
Horse Races
State Fairs
County Fairs
Tourist Sites
College Events
Cultural Events

Large festivals of almost any kind are also good events simply because they draw so many customers. Large crowds solve all of your demographics problems. The sheer numbers of people alone will ensure your success.

You must offer samples to achieve these results though.
More about easy sampling later.


OUTSELLING THE COMPETITION

At most smaller events you will usually have zero competition. If you do have a competitor, it will most likely be at a major sized event. However, with our lower wholesale prices, you will be able to sell our Regular Bags at $8.00 to $10.00 per bag. Some of my dealers even sell it for $12.00.
At $8.00 per bag (I sold them for $9.00 or 3 for $25.00 unless I had a competitor.) you will most certainly be selling at a lower price than any competitor. They would probably be selling gift bags only - at $12.00 to $15.00.
HOW TO MAKE VINO SLUSH

Just add one bottle of any kind of wine, and one bottle of water to the Vino Slush mix. Mix it up until the mix is thoroughly dissolved and stick it in the freezer for 4 hours or more. Let it thaw, if needed, enough so that you can get a spoon down into the bottom of the container to thoroughly stir it up.
The wine flavoring sinks to the bottom as it freezes, so it is very important to get your spoon all the way to the bottom of your container to thoroughly mix up the entire batch of slush to get all of the flavoring mixed together.
If you just scrape slush off of the top of the batch without thoroughly mixing, it won't taste right because all of the flavor is at the bottom.
You can also make Vino Slush in a blender for faster results and perfect consistency. Just put half of the bag into a blender, add wine and ice. Blend until smooth. That's all there is to it.
SAMPLING VINO SLUSH TO THE PUBLIC

In the state of Ohio, we are not allowed to give away free samples of any alcohol without a wine or liquor license. But, you can provide samples with non alcoholic wine and non alcoholic bourbon. And since the mixes contain no alcohol you will have no problems.
If you live in a state where you are allowed to give away samples using real wine, so much the better. Use the cheapest brand of wine you can find. When testing my recipe, I used wine that cost $3.99 per bottle. Don't waste you money on expensive wine. It isn't needed at all.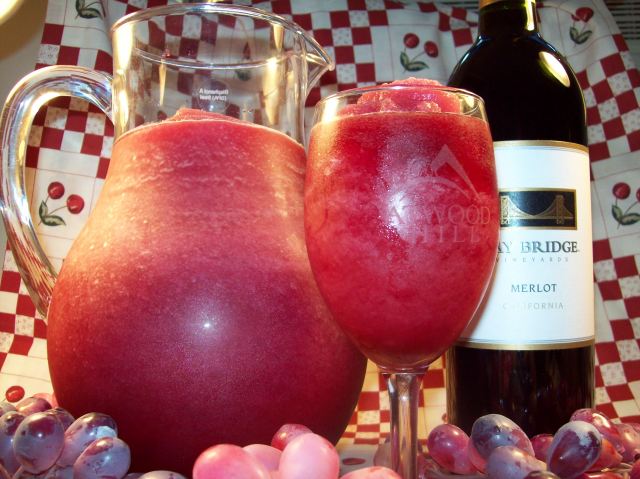 And what about our Bourbon Slush Mix? I am not aware of anyone, anywhere selling a bourbon slush mix. No competition there for sure!
There are many brands of non-alcoholic bourbons and whiskeys on the Internet. So, no liquor license needed for selling our bourbon slush mix either. Folks have been making bourbon slush for over 100 years. Another popular product you can sell.
SAMPLING METHODS

ICE CHEST
This method is what I used to use when I did shows. And most of my dealers today use this easy method. It's by far the easiest and least expensive way to transport, store and enable you to offer samples. This is the method I would always recommend.
However you can also use other methods:
FROZEN DRINK MACHINE
MARGARITA MACHINES
BLENDERS
All of these methods are thoroughly discussed in my book.
******
"Hi, Jim!
We would like to order the pallet of Bulk cases (48 cases). We receive 2-5 pallets of product per week and have a fork truck, so that's no issue for us. I would prefer a pallet, rather than receiving separate boxes via UPS. Most LTL shipping companies in this area have been to our location.
I have enough mix to last about 2-3 weeks…so let's go with the pallet order. What do you need from me to make this happen? My credit card number? Or do you prefer a check? Let me know which you prefer.
Thank you!
Angela"
"Jim,
This was the first day of the large weekend show that we are doing.... sales of the dips were very good as usual... but the Vino Slush just flew of the shelves! I was selling at $9.00 a bag or 3 for $25.00 ... many people bought 3 and 1 lady bought 6... she is leaving for Mexico tomorrow to meet up with friends and she could just picture all of them on the condo balcony in Mexico drinking Vino Slush. Another one made me laugh... her brother in law made some horrible home made wine and they could not drink it.... she bought 3 in the hopes that it would make the wine drinkable. Vino Slush was a hit... I think we sold close to 90 bags."

Vino Slush distributor
"Hi Jim,
Thank you.
You have been a big help. Between your website, emails, and phone call, you are the most helpful wholesaler I've every dealt with so far. It seems you thought of everything and don't mind passing along what you know.
Thanks again Jim.
Randy"

"Jim,
I would like to place another order for two wholesale boxes of slushy mix as we have in the past. We have started selling the mix with our own labels so that has really increased our usage.
Thanks,
Erin"



"Hi Jim,
When you get a chance, would you send another 2 cases of the Vino Slush mix our way? Although the weather has cooled, we find it markets well as a stocking stuffer.
Thanks,
Vicki"
"Good morning, Mr. Jim!
It's a beautiful Fall day here in Eureka Springs. Would you please send another two cases of Vino Slush our direction? Going through it like crazy and need some more.
Thanks very much,

Vicki"
"Hi Jim,
Can you please send me 3 cases of mix? You can bill the card on file. These are a huge seller. People love them!
Thanks!"

Mark
"Jim,
Vino Slush sales have sky rocketed. I would say over 70 % of our profits comes from the sale of the Wine Mix. As people walk by the tent not planning to stop.......as soon as you mention the Vino Slush they do stop and come back for a sample. Once they taste it they have a desire to buy. In a couple of weeks I will be ordering multi boxes of the Vino Slush Mix.
Gib"
"Jim,
Regarding the Vino Slush, I am sure it comes as no surprise to hear it has been a big hit!
I think it is the novelty that brings people in, but the taste is what sells it. It is a delight to watch people's expressions when they sample it. They are pleasantly surprised at how refreshing and pleasant tasting it is. Often they start planning when they will use it right on the spot. One man texted wine-loving friends to give them information from our business card so they could contact us.
This is a fun as well as easy product to sell.
Patty"
ANOTHER EASY, ADD-ON PRODUCT TO SELL
BREAD DIPPING MIXES
We sell our Bread Dipping mixes in bulk with a minimum of 5 lbs. Your cost is less than a dollar. You can easily package them into small plastic zip lock bags and apply your own labels. It's just one tablespoon of mix per bag. We have two flavors: TUSCAN GARLIC and SICILIAN HERB.
You can easily sell these wonderful bread dipping mixes at $4.00 or 3 for $10.00. Just add these mixes to a cup of olive oil and shake them up. Pour it onto a plate, add some pieces of bread (with tongs or toothpicks) and let the customer sample it themselves. Easy, easy up-sell.
**********
NOW LET'S TALK ABOUT TRAINING.
If you are starting a new business and you don't have any experience with that type of business you need a mentor to train you as to how it's done. Someone to teach you this business.
Someone to teach you all of the ins and outs to prevent you from blundering and making mistakes. Save you months of frustration because you don't know what you are doing yet due to your inexperience. Someone to guide you down the path to success.
Unfortunately you won't find any kind of training for this business with any other company out there.
Most companies show you their mixes, send you a wholesale price list, tell you how to make the finished product and you are on your own. The most you could expect is a few pages with a few suggestions. Good luck.
I wrote the book you see above. It's over 150 pages of every conceivable thing you need to know about how to start and operate this business. That's over 150 pages of critical information you absolutely need to know to become a real success in this business.
There is no other training out there that even comes remotely close to the training and instructions in this book I'm offering you. And it's only $12.00. But that $12.00 is refundable if you decide to come aboard as a dealer for our company.
I'M GOING TO TELL YOU HOW YOU
CAN GET THIS BOOK FOR FREE!
If you are seriously looking to start your own business, either part time or full time, with a very low start up cost - this may be the business for you. You can start this business simply by buying one case of our pre-labeled pouches (less than $120.00, plus shipping). No need for a frozen drink machine or a blender. An ice chest is all you need.
Wine slushies are the absolute rage now all across the country. We have sold our mixes to over 450 wineries and countless stores, bars, restaurants and boutiques. And sales keep soaring every year.
These mixes literally sell themselves. All you have to do is offer a free sample. One taste and that's all it takes. You can do your sampling with non-alcoholic wines and bourbons so you don't need a license. (These non-alcoholic versions taste just like the real alcoholic versions.)
And be aware that the Vino Slush mix also allows you to make wonderful frozen cocktails using spirits (vodka, rum, etc.) instead of wine. Although many wineries and customers enjoy cocktails such as margaritas, pina coladas, peach bellinis, etc. using wine instead of spirits . Wine Cocktails!
My book tells you how easy it is to do this. Very versatile product and delicious - any way you choose to make it.
You will have no limited territories. You can sell these mixes anywhere where there is a crowd. That's the key to success. Selling at the best, most well attended events that you can find. And this book tells you how to find those best events. That and a thousand other important things that you need to know are in this book.
My book will save you thousands of dollars over the years. It will prevent you from making all of the mistakes I made through my years of selling at special events. No trial and error for you.
It's a blue print for success in an easy, fun and exciting business without much competition. Follow what I teach you and you will make money.
You can make hundreds or even thousands of dollars in one weekend at well attended events. I did it many, many times. Even at high school craft shows.

Here's what is contained in my book. Note the incredible amount of important knowledge you will gain by reading and following the instructions in this book.
TABLE OF CONTENTS